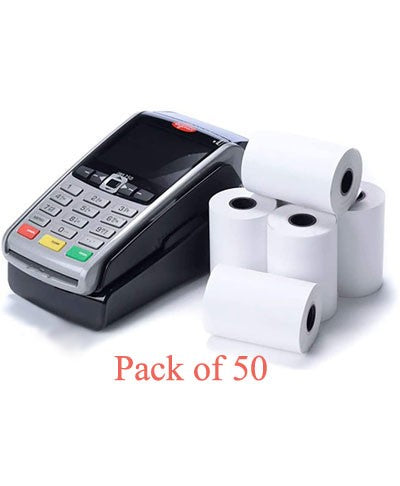 THERMAL PAPER ROLLS, 2 1/4 '' X 50 FT - BPA-FREE- PACK OF 50
Save

0

%
Save %
Original price
$24.95
-
Original price
$24.95
THERMAL PAPER ROLLS, 2 1/4 '' X 50 FT, PACK OF 50 FOR ALL TYPE OF DEBIT MACHINES
Universal Device Support – Our long 2 ¼ thermal paper rolls can be used with most common debit machines Ingenico iCT250 and Ingenico iCT220 iWL220 iWL250 iWL252 iWL255 Desk/5000 Move/5000 also Fits Verifone vx520 v400m vx520 vx670 vx675 vx680 vx690 vx810 vx820 duet and Clover Flex
The paper world has been revolutionized because of the emergence of thermal printing, and, because of it, industries and businesses around the globe can provide customer service with quality and integrity. more.
International Payment Solutions is giving you perfect and durable thermal paper rolls for your business, so you can provide your customers with high-quality receipts. We've included 50 individual rolls to help maximize your business value and to help you save the most time and money.
--


ACCURACY & QUALITY: International Payment Solutions providing you with high-quality thermal paper rolls for the printing of high-quality receipts and shipping labels for your customers. Our thermal paper has an even coating on its surface when passed through the heated printer head, its coating goes into a chemical reaction and forms a HIGH DEFINITION IMAGE. It gives you a perfect and high definition print without any smudges.




PREMIUM QUALITY PAPER & BPA-FREE: We use top quality 100% lint-free paper that will not jam in your thermal printer machine. 5 years of image life guaranteed each POS paper roll will be sure to print a clear sharp black image every time. Most people think that thermal paper is toxic and can cause several diseases but our thermal paper is non-toxic because it is BPA-free so you are good to go.




DURABLE & WITH A LONG SHELF LIFE: International Payment Solutions' thermal rolls have a long shelf life. You can, therefore, place your order in bulk and store paper rolls for long-term use. Even under the pressure of a constant and heavy workload, quality and decent thermal paper printing can produce clear, durable images and text that are very resistant.




INCREASED PRINTING SPEED: When running a company or a family restaurant or any kind of business, you are going to be printing out thousands and thousands of paper receipts but we know how slow a conventional printer can be because it uses the ribbons to transfer the ink to the paper. As compared to ordinary paper, our thermal paper rolls produce the images at a very faster rate. Thermal printing heads produce images in milliseconds, which results in much faster lines per second




PRODUCT SPECIFICATIONS: International Payment Solutions giving you 10 counts of thermal paper rolls having ultra-white clarity for clearer printing, fits all thermal calculators and debit machines. Dimensions: 2.25" x 50' (per Roll)




Versatility: Printing on thermal paper provides speedy and high-quality images. The technology is useful for many different industries. Because of its versatility, business and industries across the board prefer using thermal printing. Specialized healthcare fields rely on the quality of thermal printing. When accuracy is a must, thermal paper roll printing is the best option. Retailers use thermal printing for POS applications, like grocery stores, gas stations, and ATMs because of the fast and accurate service.




Clear and Inkless Printing: If you are using ribbons or ink cartridges, you are at risk of having smudges on the receipts you print. Also, ink usually wears off when it is exposed to environmental elements and traditional, printed receipts won't be able to be stored for long periods. However, the thermal paper doesn't require the use of ribbons or ink cartridges. All you need is a thermal printer that transfers the heat to the paper, and you are ready to print.


WHY CHOSE OUR PAPER ROLLS? Durability and low maintenance cost make a product better than any other product in the market, that's why International Payment Solutions giving you a perfect and durable thermal paper which will cost less than conventional printing papers. With 10 counts of thermal paper rolls, you can ensure high-quality printing for every customer or client. Our thermal paper rolls are non-toxic because they are BPA-free.