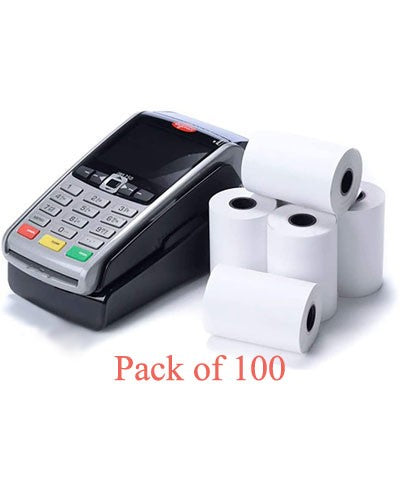 THERMAL PAPER ROLLS 2 1/4 '' X 50 FT -BPA FREE - PACK OF 100
Save

0

%
Save %
Original price
$39.95
-
Original price
$39.95
THERMAL PAPER ROLLS, 2 1/4 '' X 50 FT,BPA FREE PACK OF 100 FOR ALL TYPE OF DEBIT MACHINES
Universal Device Support – Our long 2 ¼ thermal paper rolls can be used with most common debit machines Ingenico iCT250 and Ingenico iCT220 iWL220 iWL250 iWL252 iWL255 Desk/5000 Move/5000 also Fits Verifone vx520 v400m vx520 vx670 vx675 vx680 vx690 vx810 vx820 duet and Clover
Thermal paper is a special paper type that has a chemical coating on its surface. When the paper goes through a thermal printer, heat from the print head causes the chemical coating to activate and form an image of high definition. Unlike regular paper, this process uses heat to start a chemical reaction within the paper itself. So it doesn't require a ribbon or toner.
WHAT MAKES US SPECIAL?
International Payment Solutions is giving you perfect and durable thermal paper rolls for your business, so you can provide your customers with high-quality receipts. We've included 100 individual rolls to help maximize your business value and to help you save the most time and money.
PREMIUM QUALITY PAPER: We use top quality 100% lint-free paper that will not jam in your thermal printer machine. 5 years of image life guaranteed each POS paper roll will be sure to print a clear sharp black image every time.
FITS COMMON MACHINES: Great thermal paper roll size for any business. Will work with most common Receipt Printers and POS systems at restaurants, stores, gas stations, etc. See description to see machine compatibility.
DURABLE AND SAVES TIME: A lot of moving parts are not needed in the thermal printing, which makes them quite simpler to run as well as long-lasting than that ink printers. Even under pressure of a constant and heavy workload, quality and decent thermal paper printing can produce clear, durable images and text that are very resistant.
Take your business to the next level with these high-quality THERMAL ROLLS.
--
ACCURACY & QUALITY: International Payment Solutions providing you with high-quality thermal paper for the printing of high-quality receipts and shipping labels for your customers. Our thermal paper has an even coating on its surface when passed through the heated printer head, its coating goes into a chemical reaction and forms a HIGH DEFINITION IMAGE. It gives you a perfect and high definition print without any smudges.
INCREASED PRINTING SPEED: When running a company or a family restaurant or any kind of business, you are going to be printing out thousands and thousands of paper receipts but we know how slow a conventional printer can be because it uses the ribbons to transfer the ink to the paper. As compared to ordinary paper, our thermal paper rolls produce the images at a very faster rate. Thermal printing heads produce images in milliseconds, which results in much faster lines per second
REDUCES THE PRINTING COST: International Payment Solutions' thermal paper rolls are quite affordable as compared to other forms of paper or printing methods. When you are using conventional paper, not only the paper itself cost more but you also need to worry about the ink. However, our thermal papers use heat to produce images and texts
PRODUCT SPECIFICATIONS: International Payment Solutions giving you 100 counts of thermal paper rolls having ultra-white clarity for clearer printing, fits all thermal calculators and debit machines. Dimensions: 2.25" x 50' (per Roll)
WHY CHOSE US? Durability and low maintenance cost make a product better than any other product in the market, that's why International Payment Solutions giving you a perfect and durable thermal paper which will cost less than conventional printing papers. With 100 counts of thermal paper rolls, you can ensure high-quality printing for every customer or client. Our BPA free thermal paper rolls are non-toxic . Just click Add to Cart!