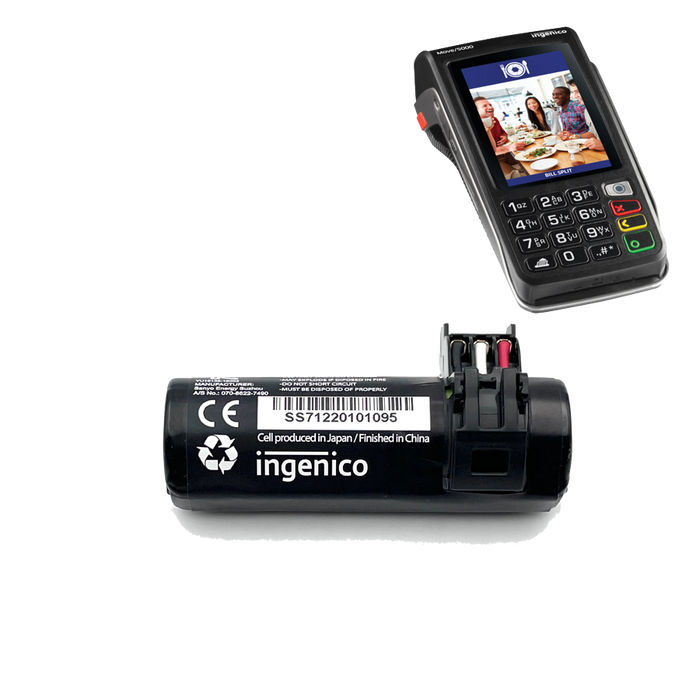 Ingenico MOVE 5000 Battery (Ingenico Original Battery)
Sold out
Original price
$29.95
-
Original price
$29.95
International Payment solution

 

is giving you a durable and high-quality Lithium-ion ORIGINAL battery for your Ingenico Move 5000 International Payment solution

 

motto is high quality, low prices, fast shipping, and taking care of our customers. Everything of the 

Ingenico 

Move 5000' battery

 is double-checked and electronically tested before being sent out to ensure the highest quality. 100% Customer Satisfaction is our ultimate goal so we encourage you to message us because we will work for you. CHOSE US?

 

Choose an International Payment solution

 

Lithium-ion replacement battery for your debit machine because of: Easy & Fast Charging: Using a fast-charging International Payment solution Lithium-ion replacement battery means less downtime for your debit machine while it's tethered to a charging station. In a busy facility, of course, the less time a machine has to sit idle, the better. Also, reducing downtime for a machine, the lithium-ion battery can be an opportunity charged. This means that cleaning procedures don't have to be designed around the need to allow a battery to fully charge in-between uses, and it also simplifies training for team members. SAFER FACILITIES & ECO-FRIENDLY: International Payment solution's

 

Lithium-ion replacement battery Improves indoor air quality and reduces the risk of accidents by eliminating exposure to flammable fuels and battery acid with lithium-ion technology. Also, enjoy quiet operation with low dBa sound levels. Efficient inspection methods at the manufacturing site and intelligent battery management systems in the field can improve battery safety by orders of magnitude.
Lithium-ion batteries (Ingenico MOVE 5000 Battery) provide significant environmental benefits over other fossil fuel alternatives. With the steady increase in electric vehicles, we see an immediate

 

impact

 

on the reduction of carbon emissions.